PG 8
LICAD
LISEGA's unique modular system was the prerequisite for the creation of highly sophisticated software application. The solutions we offer open up new opportunities for increased efficiency in design, optimised quality and significant savings in project man-hours. LICAD® has set new standards in this field. It makes it possible to create support drawings and lists of materials in minutes instead of hours.
LICAD®

LISEGA Benefits

Program examples
LICAD®

LISEGA Benefits

Program examples
LICAD®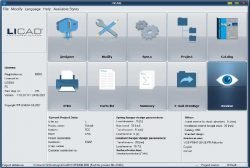 LICAD® is the worldwide leading software for support design.
With LICAD® the user can generate support drawings, bill of materials and 3D models in different CAD programs.
Experience has shown that with LICAD® up to 50% of the support design costs can be saved. The time between design and delivery is also greatly reduced.
The relevant data for designing supports is entered using a standard form. Only 6 parameters are needed to find the optimum support design solution:
Pipe diameter
Temperature of medium
Operating load
Displacement
Installation height
Support configuration
Optimum spring and constant hangers are selected automatically, whereby the specific customer requirements such as travel and load reserves according to ASME B 31.1, VGB-R 510 L, DIN EN 13480 or other parameters are taken into account.
The support chains created are saved as complete assemblies and can be printed out as drawings or modified at any time. They are true to scale and contain all the relevant details, including parts lists with weights and materials and optionally with location plan or other freely editable information.
LISEGA Benefits
To give the user the highest possible benefit, the LICAD® software package comes with the following features:
LICAD® generates ready-to-install load chains from standard supports
 Saves up to 50% of planning costs
Import and export interfaces for tables and databases
Interfaces for CAE systems (e.g. ROHR2®, AutoPIPE®, CAESAR II®)
Interfaces for 3D CAD component packages (e.g. AutoCAD®, AutoCAD® Plant 3D, MicroStation®, SmartPlant®/Smart® 3D, PDS®, Support Modeller®)
2D / 3D libraries for different CAD programs (e.g. AutoCAD®, AutoCAD® Plant 3D, MicroStation®, SmartPlant®/Smart® 3D, PDS®, PDMS™, Support Modeller®, TEKLA Structures)
Interfaces for stress analysis and steelwork software
Continuous improvements and updates
Transmission of project information, including drawings and orders
The use of LICAD® is free of charge