Field Service

LISEGA Services

Examples

More services
Field Service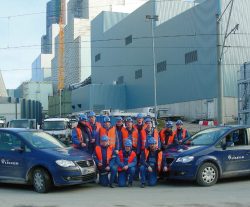 The operational safety of pipe systems and hence the readiness and long life of a plant depends to a large extent on the condition and functional capacity of the supports used.
To avoid costly damage and breakdowns, regular inspections of the thermal pipe displacement and the condition of the supports – particularly in older plants – is urgently recommended.
Additional stress due to low quality pipe supports can cause lasting damage during operation and increases the risk of plant malfunctions and breakdowns.
Defects frequently occurring in pipe supports are:
Poor support designs
Faulty installation
Incorrect load settings
Unsuitable layout
Deficient quality of support components
For our on-site services we offer our customers a team of qualified and experienced specialists at all LISEGA locations.
LISEGA Services
We offer our customers:
Inspection of pipe supports
Inspection of pipe system displacements
On-site design of supports
Construction supervision, installation and commissioning
Testing, maintenance and inspection of all types of snubbers