Application Engineering

LISEGA Benefits

Mounting examples

More services
Application Engineering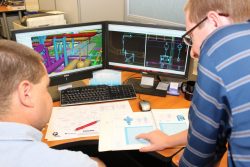 Planning | Calculations | Assistance
Highly qualified pipe support planning including secondary steelwork
LISEGA range of services:
3D-modelling (e.g. PDMS or Smart Plant)
Preparation of 2D-support drawings (AutoCAD)
Pipe stress analysis
Steel structure calculation and documentation
Evaluation of structural Connections
The proper functional integration of pipe supports into the existing piping and plant concept has a decisive influence on the long-term behaviour of the pipe systems. Support design should therefore be given the same care and attention as the piping itself. In this regard, the selection of the component, the availability of the latest design software and especially the experience of the planning engineers have a decisive influence on the quality of design. It is also important to meet strict requirements regarding tight schedules and economic targets.
Pipe stress calculation
Experience has shown that pipe systems behave differently in practice than theoretical calculations lead one to expect. The reasons for this can be numerous, e.g. spring relaxation, ill-conceived modification work, poor maintenance, unprofessional service work by third parties etc.
LISEGA Benefits
Customer who use LISEGA's planning expertise benefit from the following:
Economic demarcation of their own capacities
Professional execution through the use of experienced specialists
Efficient and cost-effective drafting thanks to the use of cutting-edge software (e.g. LICAD®, AutoCAD®,  MicroStation®, PDMS™, Staad.Pro® , SmartPlant® review, Navisworks®, ROHR2®, CAESAR II®)
Rapid and flexible processing of the entire project, from ordering to shipping, following the principle of 'everything from a single source'
Quick delivery due to prompt processing
Complete and permanent documentation
Highly qualified experts always on hand for follow-up service